Like many people I used to use slip leads – easy to pop on and off, just over the dog's head and we could be away.  I was not aware of the research that has taken place, this has encouraged me to switch to harnesses for my dogs, to which a long lead (minimum 3 meters) is attached.  If you too, after reading the research below are keen to switch please contact us.
Brand new (17 April 2020) research by Nottingham University regarding collars.
Their conclusion is "Variation in the pressures exerted on the neck may have implications on comfort and the potential to cause injury. No single collar tested provided a pressure considered low enough to mitigate the risk of injury when pulling on the lead"
How to correctly measure the size of your dog's harness
To  read "A myotherapist's perspective on harnesses" by Julia Robertson, please click here and to see a pamphlet with more explanations on why your dog should wear a harness – please click here.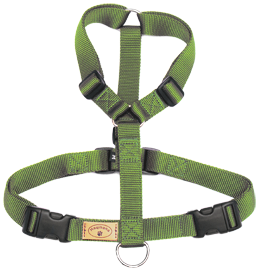 Why a Haqihana harness?
Careful scientific study of the harness has helped form the Haqihana design, which is adjustable in five places, ensuring optimal adaptability of the harness for dogs of all sizes and morphology.
Each Haqihana harness is handmade with great attention to detail in Italy. Both safety and comfort are of the essence and all parts are sewn with secure stitching.  The webbing is made from a high tenacity, spun-dyed nylon that guarantees colour and resistance for a minimum of five years.
The harness does not cause pain or restrict the dog's movements, nor does it cause friction on the dog's skin.
The design, dimensions and position of the harness on the dog have all been studied in depth to guarantee maximum comfort in all situations. Even when pulling or jerking, or being restrained, pressure is on the dog's thorax only.   To see Haqihana harnesses please click here and open the PDF brochure.
Haqihana is the only harness endorsed and used by Turid Rugaas, so if you feel the time is right for your dog to have a harness please contact us.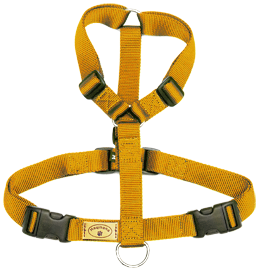 How to correctly fit your dog's harness